Help protect Montana's clean air and water by choosing a Montana license plate that benefits MEIC! With an initial extra cost of $40, and an annual renewal extra cost of $20, it's an easy way to support our important work. Your donation is tax deductible, and will be used to protect your right to a clean and healthful environment.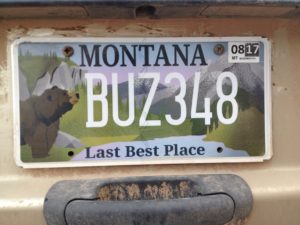 You don't have to wait for your current plates to expire. Simply bring your old plates in and be one of the first to purchase and show off our design! Montana License Plate
This plate funds non-partisan efforts to protect Montana's most precious resources: clean air and water. MEIC's mission is to uphold each Montana's Constitutional right to a clean and healthful environment. Proceeds from this plate help to preserve our state's natural beauty and public health for generations to come.
Visit your local DMV to get a plate, or contact Mel Griffin at (406) 443-2520 to learn more.