Human caused global warming through the release of carbon dioxide equivalent (CO2e) represents an astronomical threat to our natural environment and human civilization that needs to be addressed immediately. The ramifications of a warming climate are pervasive and largely irreversible. Projections for our future in a world of climate change predict that temperatures will continue to increase, sea levels will continue to rise, and the occurrence of extreme weather events will become more frequent. Natural systems will be permanently altered and disrupted, species will go extinct, and our earth will be forever altered.
Montana has and will continue to feel the effects of a warmer climate in ways that will affect our natural environment and outdoor heritage. MEIC recognizes the significant threat of climate change, and has dedicated the majority of resources within our organization towards addressing Montana global warming pollution and climate change.
---
Montana and the Clean Power Plan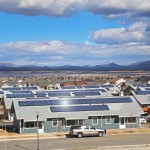 The Clean Power Plan proposed by the U.S. Environmental Protection Agency will play a critical role in reducing dangerous carbon emissions in Montana as well as assist in spurring clean energy development and jobs.
---
Facts, Figures, and Policies on Global Warming
The science of climate change has never been more clear, humans are warming the planet at an alarming pace. MEIC advocates for policies, both state and federal, to address climate change.
---
MEIC is working to reduce the use of coal by accounting for its full costs in mining, transporation, and burning, and to implement a thoughtful transition to renewable and clean energy sources.
---
Montana is experiencing increased interest in oil and gas development. MEIC is working in the legislature and with state agencies to protect our air and water from irresponsible oil and gas development.
---
MEIC plays an active role in promoting clean energy projects and policies in Montana. Montana has an abundance of clean, renewable energy resources such as wind, solar, energy efficiency, small hydro, and low-emission biomass.