Fossil fuel development and the toxic burning of hazardous waste are just a few factors contributing to the degradation of Montana's air quality and climate. With the ultimate goal of air that is clean and safe to breathe and a stable climate, MEIC works with citizen groups, supports legislation, and acts as an agency watchdog to ensure that regulations are complied with and enforced.
---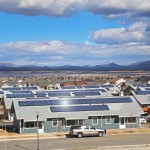 Montana and the Clean Power Plan
The Clean Power Plan proposed by the U.S. Environmental Protection Agency will play a critical role in reducing dangerous carbon emissions in Montana as well as assist in spurring clean energy development and jobs.
---
MEIC works to keep the Big Sky clean by monitoring both federal and State policies and regulations that affect the air we breath.
---
MEIC carefully monitors any proposals to burn tires in Montana, including the Holcim proposal in the Gallatin Valley.
---
MEIC works hard to account for the true costs of burning coal, from climate change to the associated health effects.
---
MEIC recognizes the dire threat of climate change, and works hard to reduce greenhouse gas emissions in Montana.