Wednesday, December 4th Deadline
[emailpetition id="42″ width="325px" progresswidth="300″ class="alignright"]
The iconic Greater Sage Grouse is seriously threatened by habitat loss. Energy development and resource extraction threaten the species. The decline has been so dramatic that the species was proposed to be listed under the Endangered Species Act (ESA). Recently Governor Bullock appointed a Sage-grouse Habitat Conservation Advisory Council. It developed a draft plan to try to avoid the need for listing under the ESA. The Council released the draft plan for comment. We need you speak up for Montana's Greater Sage Grouse in the next 24-hours!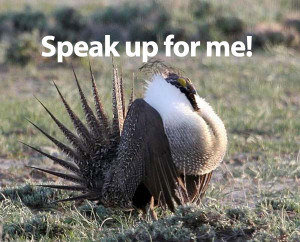 Many of the strategies proposed in the plan rely on greater protection of sage-grouse in Core Areas. Core Areas were identified by Montana biologists as areas where sage-grouse densities are the highest. The proposed Core Areas protect about 76% of Montana's sage-grouse population and cover about 10 million acres of land. If an area is not a "Core Area," it is considered General Habitat.
While the plan contains some strong tools for the conservation of Sage-grouse, certain parts of the plan are insufficient and need to be modified. For example, the plan designates Core Areas of habitat but it does not require a "Health Assessment" of these areas to determine whether each Core Area is actually conserving habitat.
The draft plan contains no special stipulations for coal mining beyond requiring that coal mining comply with the law. Coal mining is incredibly destructive to Sage-grouse habitat, and special stipulations should require that:
coal mining activities in Core Areas not occur during sensitive seasonal periods;
mining must be located adjacent to existing disturbances; and
additional buffer distances in addition to the General Habitat buffer must be considered and based upon the best available conservative science.
Finally, the requirement that there be no surface occupancy within ¼ mile of Sage-grouse leks (breeding & brooding grounds) in General Habitat is NOT based on any science – it is simply based Wyoming's standard. General Habitat is more important in Montana than Wyoming. Montana Core Areas only protect 76% of the sage-grouse population but in Wyoming it's about 84%.
We need you to comment on this inadequate plan in the next 24 hours!