by Derf Johnson
In July 2017, the Montana Department of Environmental Quality (DEQ) declared Tintina Resources' application for its proposed Black Butte mine on a tributary of the Smith River to be complete. But don't despair or lose hope.
This recent action is only one step in a long process, and it does not mean that Tintina's application has been approved. What it does mean is that DEQ believes that it has received all of the information required in order for it to make a decision about the mine's permit. This step is loosely comparable to turning in your homework but not yet knowing what your grade will be.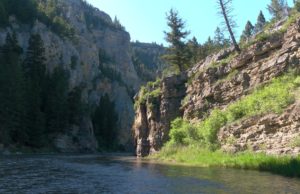 Now that the application is deemed complete, DEQ will begin the process of preparing an environmental impact statement (EIS) under the Montana Environmental Policy Act. This analysis will look at the broad range of environmental and social impacts that could potentially result if DEQ were to permit the mine. While the law currently requires that the EIS be completed within one year, in reality the process is like a leap of faith. It will likely take slightly longer, and will provide for public input at several junctures.
Most recently, the Montana DEQ announced the beginning of the scoping process and a series of scoping meetings that will occur in Great Falls, White Sulphur Springs, and Livingston. The scoping process will determine what issues the department will need to study in order to conduct an adequate EIS.
The public scoping meetings will be held at the following locations, dates and times:
Great Falls: Monday, October 30th from 6-9 PM, Great Falls Civic Center, 2 Park Drive South
White Sulphur Springs: Wednesday, November 1st from 6-9 PM, White Sulphur Springs High School Gymnasium, 405 South Central Avenue
Livingston: Tuesday, November 7th from 6-9 PM, Park County High School Gymnasium, 102 View Vista Drive
Additionally, DEQ has set a deadline of November 16th to submit written comments to deqtintinablackbuttecopperproject@mt.gov or by postal mail to Craig Jones, Montana Department of Environmental Quality, P.O. Box 200901, Helena, MT 59620-0901.
It is critical for Montanans to pay attention, and to speak up during public comment periods and attend public meetings in their area. DEQ needs to hear from everyone who loves the Smith River and is concerned about the myriad potential environmental impacts of this project.