Click on this link to see the latest issue of Down to Earth.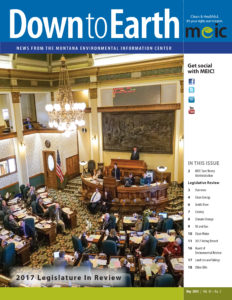 In this issue, the 2017 Montana Legislature in Review:
MEIC Sues Trump Administration
Legislative Overview
Clean Energy- Legislature
Smith River – Legislature
Colstrip- Legislature
Climate Change- Legislature
Oil and Gas – Legislature
Clean Water – Legislature
2017 Legislative Voting Record
Board of Environmental Review – Legislature
Land use and Takings – Legislature
Other Bills at the Legislature
Would you like to receive future newsletters from MEIC? Sign up for MEIC's Action Alert Network!