by Brian Fadie
Recently, a Montana state senator shared a link on social media pointing to a anti-renewable energy blog that claims tens of thousands of broken down wind turbines are littering the country. The blog is almost four years old, absent of corroborating sources, and long on nakedly disparaging statements about wind – credibility warning signs that one might expect would dissuade an elected official from endorsing it.
But the link was shared and now there are probably some unfortunate people out there who believe it. And as you might have guessed, it's wrong.
The claim was that there are "14,000 abandoned wind turbines" littering the United States. Where exactly these turbines are located isn't specified, but it appears to come from totaling the number of turbines in three regions of California where wind projects were built in the 1980s.
The American Wind Energy Association had a detailed debunking of this anti-wind myth back in 2013 when it was circulating the anti-renewables echo chamber that is worth reading, but I would add two points.
First, if the California wind projects are indeed the source of this myth, then these were some of the first wind farms in the country. They utilized technology that is highly antiquated by today's standards, specifically the turbines – as well as their energy output – were tiny compared to modern industrial-grade wind generators. Think 50 kilowatts per turbine then vs. 2,500 kilowatts per turbine today.
Thanks to these advances in wind technology – and because an area with good wind resources in 1980 still has good wind in 2015 – companies have been actively "re-powering" wind sites for years. This often involves removing hundreds or even thousands of old, inefficient turbines and replacing them with a few dozen modern installations that produce more overall energy.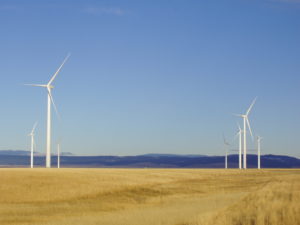 In fact, Google announced in 2015 it was re-powering one of the referenced California wind farms. From the San Jose Mercury News:
"About 770 old turbines from the 1980s will be replaced this year by 48 new machines producing twice as much energy, enough to power Google's corporate campus in Mountain View with 100 percent renewable power."
Other companies have followed suit in that region (here and here), taking the opportunity to also site the turbines more thoughtfully to reduce avian impacts.
Second, here in Montana, Governor Bullock just signed HB 216 into law, a bill that institutes a bonding requirement for wind projects. This means money will be set aside at the start of a project to make sure turbines are properly removed and the land reclaimed when they have reached their end of life.
MEIC supported this bill because we recognize the need to ensure resources are available to remediate energy development sites at their end of life – be it from fossil fuel or clean energy.
So, no there are not tens of thousands of "abandoned" wind turbines strewn across the country. And thanks to some reasonable state legislation, in Montana there never will be.