The legislature may only be in week two, but bills are already moving full speed ahead.
This week there are multiple important bills being heard on clean energy that need your help – some good, some bad. Please read more and then take action!
Net Metering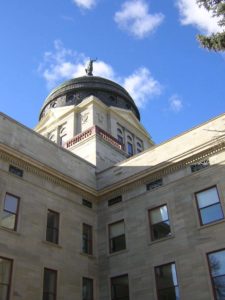 Net metering is a policy that allows individuals and businesses that install a wind, solar, or micro-hydro system on their own property to receive credit on their energy bill for any extra energy produced that goes onto the grid. Renewable energy system owners only get this credit when their system puts this extra energy onto the grid – energy that NorthWestern Energy turns around and sells to others on the grid.
When the Republican controlled legislature first passed Net Metering in 1999, it found that "it is in the public interest to promote net metering because it encourages private investment in renewable energy resources, stimulates Montana's economic growth, and enhances the continued diversification of the energy resources used in Montana."
We couldn't agree more.
This week there are good and bad net metering bills being heard in both the House and Senate energy committees that need your help.
Click here to help net metering in the House.
Click here to help net metering in the Senate.
Renewable Energy Standard
Montana's Renewable Energy Standard includes a provision supporting Community Renewable Energy Projects (CREPs). These are projects that must be majority owned by Montana individuals or businesses and less than 25 Megawatts in size. This CREPs provision is designed to spur local jobs and economic development while also putting clean energy onto the grid.
Only investor owned utilities are required to comply with this part of the law. Montana Dakota Utilities is in compliance but NorthWestern Energy is not. Rather than comply with the law, NorthWestern instead wants to just remove the CREPs requirement.