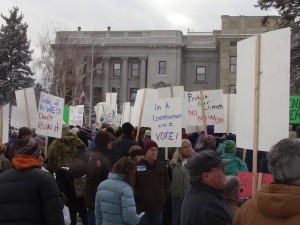 Climate Action Rallies Planned Across the State for April 26
On Saturday, April 26, all across the state, people will come together for the Montanans for Climate Solutions Rallies. From Bigfork to Lame Deer and many points in between, Montanans will raise the issue of climate change and pressure officials and businesses to support proactive and positive solutions to the climate crisis.

To find a rally in your community, click here. If you don't see your community represented, and you'd like to help organize a rally in your neck of the woods, please contact us by email (meic@meic.org) or phone (406-443-2520) today.
You can also find more information – and RSVP! – at MEIC's page on facebook.
We hope to see you all this Saturday, April 26!