By Derf Johnson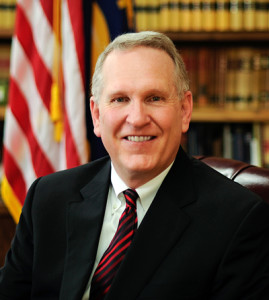 Attorney General Tim Fox is taking extreme positions that compromise our Montana values and our fundamental right to a clean and healthful environment.
What does the Fox say? Montana's new Attorney General Tim Fox has taken some peculiar legal positions since taking the helm as Montana's lead attorney. These positions can only be characterized as outdated or inconsistent arguments that radically over-emphasize states' rights or side with multinational corporations at the expense of a balanced approach to environmental regulation.
Tim Fox: standing up for the citizens of … Washington State? Tells Washington to Ignore Montanans.
Most recently, Fox hired an expensive Washington State lawyer, former Attorney General, and failed republican gubernatorial candidate (Rob McKenna) to write a letter to Washington permitting authorities on the scope of Washington state's environmental analysis for Arch Coal's proposed coal export facility. Shockingly, the letter urges Washington authorities and the U.S. Army Corps of Engineers to ignore Montanan's concerns and NOT consider the environmental and public health impacts to Montana. Why would Montana's Attorney General want to exclude a consideration of impacts to Montanans when the proposal would have major implications in our state?
What's more, the letter purports to represent the opinions of an unbelievably broad spectrum of people, when it concludes "Therefore, on behalf of the States, their citizens, other coal-producing states and foreign nations seeking to improve the economic conditions for their citizens, we request the scope of review of the environmental impacts for the MBTL Project be limited to matters within the jurisdiction of the State of Washington …"
Not only should Fox not pretend to represent other states or foreign nations, but as Montana's lead attorney he should have reviewed Montana law. Had he done so, he would have found MCA 2-15-201(3), clearly spelling out that "The governor is the sole official organ of communication between the government of this state and the government of any other state or of the United States." It appears that Fox is out of bounds.
The impacts to Montana from the construction of Arch Coal's export facility could be many. These include increased open-pit coal strip mining, water and air pollution, climate disruption, and increased coal train traffic. Montana taxpayers may also be forced to subsidize this scheme with decreased property values and by having to foot the bill for rail infrastructure improvements and upgrades.
Groundwater contamination? Who cares!
In a late August 2013 comment letter to the U.S. Bureau of Land Management, AG Fox joined four other states in objecting to the agencies proposed rules that establish basic, nationwide standards for fracking. Fracking is a process subject to very few environmental rules. It consists of injecting millions of gallons of water, chemicals, and sand at high pressure into shale formations to facilitate the recovery of oil and gas. The practice of fracking has been heavily criticized for its major environmental and public health impacts. The proposed BLM rules would establish nationwide standards for such "radical" concepts as increased requirements for well drillers to test the well casings (in order to prevent groundwater contamination) and increased planning requirements for disposal of toxic flow-back water.
Fox argues that the regulation of fracking should continue to be left entirely to the states in a piecemeal, hodge-podge regulatory scheme with no baseline standards. Fox's letter claims, "State regulatory programs have been carefully designed to address state-specific issues and needs and are applied consistently, regularly reviewed, and continuously subjected to thoughtful administrative oversight." This brash claim follows closely on the heels of the most recent and scathing audit of Montana's Board of Oil and Gas Conservation (BOGC), the government agency primarily responsible for regulation of oil and gas in Montana. The audit found the regulatory program in need of a serious overhaul, noting that:
The division had not inspected 58% of active wells in at least five years
Four wells were inspected more than 20 times
20% of wells with an identified inspection deficiency or violation did not get a "follow-up inspection."
10% of sampled inspection forms were missing the inspection type. Inspection types identify the nature of an inspector's visit, such as routine, construction, emergency response, plugging witnessed, c2014_04_23 Montana AG's response to MEIC info requestomplaint, etc.
6% of sampled inspection forms were recorded on an alternative inspection form. This alternative form does not contain the same data fields as the primary inspection form.
48% of inspection forms did not cite the administrative rule the operator violated.
40% of inspection forms did not note the date the operator was notified of noncompliance.
35% of noncompliance issues recorded on the division's information system had not been resolved
Fox apparently wants to maintain the status quo of state regulation, which by all indications, is not working.  MEIC was alarmed at AG Fox's radical position, and curious as to how he reached such an extreme conclusion that the federal government shouldn't provide uniform baseline regulations to govern dangerous activities like fracking.
Utilizing Montana's constitution, which guarantees citizens the right to access public documents, we requested all documentation pertaining to the AG's development of that letter to Interior Secretary Jewell. After over two months of failing to respond to our request, we appeared to make headway, receiving a response from his office. However, Fox's response made us even more worried. In his response to our information request, large amounts of information were unnecessarily redacted, including the emails of parties who apparently coordinated on the comment letter.
READ THE DOCUMENTS PROVIDED IN THE INFORMATION REQUEST
Do we really want an Attorney General who can't, or worse yet, won't provide the public with its constitutionally protected right to inspect public documents of state government? If our Attorney General won't comply with Montana's Constitutional right-to-know, what else is he willing to ignore? A common theme seems to be developing in which Fox sides with large, multi-national corporations at the expense of everyday Montanan citizens and communities.