Special Projects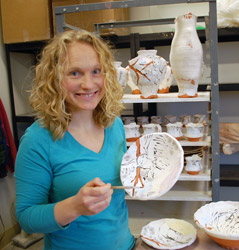 In 2012, Mel moved from Minneapolis to Helena to pursue a career in the arts. She immediately fell in love with Montana's beautiful trails and rivers and decided to make the relocation permanent.
Mel spends most of her time working with MEIC's highest contributors.
Before joining the MEIC staff, Mel was a Resident Artist at the Archie Bray Foundation in Helena, and also worked as a college professor and outdoor educator. She continues to work as a professional ceramic artist and illustrator from her new studio and home in the Scratchgravel Hills.
In her free time, Mel can be found trail running, cooking, and observing and drawing wildlife.
Contact Mel at: mgriffin@meic.org